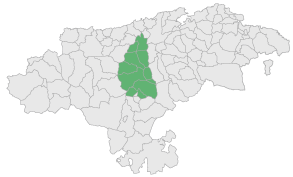 A long history
The valley of the river Besaya runs through the geographic centre of Cantabria, where we find vestiges of its first dwellers. The area has always been populated, as shown by the proximity of the cave paintings in Altamira and Puente Viesgo.
During the first century, the Romans, following the course of the river, built the road that would, first of all, be used for travelling by the legions that ended up subduing the Cantabrian people; and second, to transport the minerals extracted from the major deposits found there. As a consequence, in its proximity there can be found the little evidence there is of Roman acculturation in Cantabria: several ports in the north like Portus Blendium (Suances) and Portus Victoriae (Santander), the town of Julióbriga, next to Reinosa, as well as the remains of the Roman road between Pesquera and Bárcena de Pie de Concha.
The current road to Palencia follows the route used by the pilgrims to access St James' Way from Santillana del Mar, the same route that the wool and Castilian wheat roads followed in their way to Europe.
Torrelavega is the capital of this district. Commerce, industry and administration of the area develop around this town. It is also the largest urban area in the district, followed by Los Corrales de Buelna.
Historical and artistic heritage
Throughout its history, works of art have been created and monuments of great value have been erected, both civilian (Cartes, Riocorvo, Las Fraguas) and religious (Silió, Yermo), most of which have been listed as historic-artistic monuments. Some vestiges previous to the Roman acculturation are: the World Heritage prehistoric caves of Hornos de la Peña and the Cantabrian stelae of Barros, a monumental carved stone, circular in shape and with a funerary function.
As most of the region's territory, this district also has medicinal mineral water spa, located in Las Caldas de Besaya.
Choose destination in Cantabria