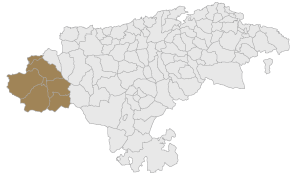 Excellent destination for rural tourism
Liébana is one the most renowned holiday destinations in Cantabria. It is surrounded by high mountains, has a great scenic value and benefits from a benign climate. It is a traditional location for rural tourism, due to its charming villages that have known how to preserve their authentic character. The owners of the numerous hospitality establishments in the area have recognized the importance of keeping the coherence with the traditions of Liébana.
Liébana is divided into several valleys, the most populated of which is Val de Baró, at whose upper end we find the mountain station of Fuente Dé. From there, a cableway climbs down nearly a thousand metres to the Mirador del Cable, a viewpoint worth visiting to feel close to the grandness of Picos de Europa. Numerous routes start from this point, like the one that takes to the Áliva Hotel, a former mountain hut and state-run tourist hotel, and an essential stop in the district of Liébana to enjoy, at least for one night, touching the sky and the stars.
You will enjoy nature
Liébana, straddling between the National Hunting Reserve and the National Park of Picos de Europa, is an excellent place to enjoy nature. It is the habitat of diverse species of which there are few specimens left, such as the chamois, the golden eagle, the grouse or the bear. There is a predominance of oak, holm oak and beech tree woods. The rivers, meanwhile, are well-known for their trout. Forest tracks, country roads and rather a lot of trails, some of them very well marked, are a permanent invitation to go on walks and long hikes.
Culture and pilgrimage
Its historical and artistic heritage has some elements of great interest, such as the 10th-century Mozarabic church of Lebeña and the 11th-century Romanesque monastery of Piasca. In the monastery of Santo Toribio de Liébana we find the relic of the Lignum Crucis, the biggest preserved fragment of the Holy Cross. The monastery was founded upon the mount of Viorna during the 6th century, although the present church is from the 13th century. At this monastery, in the 8th century, lived and wrote his work Beato de Liébana, author of «Commentaries to the Apocalypses», an important example of medieval thought and an artistic treasure due to its polychromatic illustrations. Santo Toribio is, together with Jerusalem, Rome and Santiago de Compostela, one of the four sacred places of Christian pilgrimage.
Choose destination in Cantabria