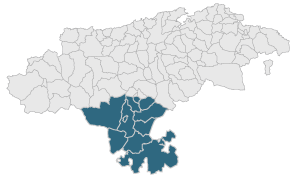 Campoo goes a long way
The area of Valles del Sur (Campoo and Valderredible) is one of the great unknown touristic destinations in Cantabria. Its location, halfway between Green Spain and the Spanish Plateau, is symbolized by the peak of Tres Mares, which has a unique feature in the entire Iberian Peninsula: from its snows, the wellsprings of the rivers Ebro, Pisuerga and Nansa are formed. These rivers end their journeys, respectively, in the Mediterranean, the Atlantic and the Cantabrian waters.
The area is excellent for snow and adventure sports, with the ski station and mountain Alto Campoo as the prime example. It is a paradise for nature watchers and has a remarkable cultural heritage.
Its largest urban area is Reinosa.
Pure nature
Campoo has amazing and gorgeous scenery, in particular the sierra of Peña Labra and El Cordel (with peaks of more than 2,000 m), the source of the river Ebro in Fontibre, the deep gorges of this same river as it passes through Villaescusa, or the whole reservoir contour.
There are plenty of oak, birch, holm oak and beech woods. The vast mountainous areas are habitat to wolves, bears, wild boar, roe deer and badgers. The Ebro reservoir is home to large numbers of waterfowl and is a mandatory stop for numerous migrating birds.
"Border heritage"
The historical and artistic heritage of the valleys of Campoo and Valderredible reflects the border nature of this area, with traces of confrontation between Cantabrian and Roman people in various spots. There are remarkable Roman ruins in Julióbriga.
The cave chapels of Valderredible, attributed to the 9th century, are important witnesses of Christianization. The Romanesque collegiate churches of Cervatos and San Martín de Elines are found on the route of the Romanesque towards the interior of the plateau. In this context, the sanctuary of Montesclaros is to be found, a haven of peace surrounded by forest whose founding is prior to the year 1,000. Nowadays it is the ideal place to spend some days of peaceful rest.
Choose destination in Cantabria