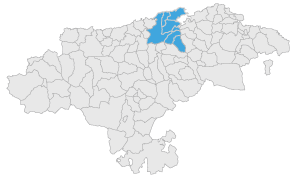 A capital city with beautiful surroundings
Santander is a city where you can feel at home, relax and have a great time while discovering its charms, its natural beauty, its extraordinary cuisine, the human qualities of the locals, its vibrant cultural life and its wide range of leisure activities.
This city combines an urban environment with the essence of Cantabria: beaches, scenery, nature, gastronomy and culture. The visitor finds different cities within Santander: the old and the modern, the traditional and the cosmopolitan.
The city is arranged around a natural port that has been used from before the period of the Roman Empire. It has a privileged surrounding landscape, with extensive green spaces and beaches, notably the area of Mataleñas, El Sardinero and La Magdalena, where King Alfonso XIII used to have its summer residence.
To the conditions of Santander as a city and its convenient size for visitors, we have to add its good connections by air (Severiano Ballesteros Airport is just 5 km away), by sea (Britanny Ferries connects Santander with Plymouth, Portsmouth and Cork) and by land (the Cantabrian motorway and the Meseta motorway, as well several railway lines connect it with the rest of the peninsula).
Santander is known as one the most elegant and beautiful cities of the north coast of Spain. To its admirable landscape and beaches we have to add some special spots and great plans with which this Cantabrian capital presents itself as different to other cities.
Plenty of entertainment
Not far from the city, following the southern shore of the bay and the coastal strip that goes to the mouth of the river Pas, there are some of the region's best beaches, which are very frequented during the summer. However, for those having the chance to be in the area during the first days of the beach season (May and June) they will be practically deserted.
The coast located north of the city has recently been converted into a natural park. It has a steep and rocky landscape and, during the migrating seasons, many birdwatchers come here to watch birds of passage in their journey.
Only a few kilometres away is the Natural Park of the Dunes of Liencres, the largest dune system of the Cantabrian coast. At the south of the bay is Peña Cabarga, whose summit offers a stunning panorama of nearly the whole of Cantabria. On the hillsides we find Cabárceno Nature Park, which is the largest animal park in Europe, and where gorillas, elephants, rhinos, giraffes, bears, etc. can be watched in such large enclosures that they seem to be living in total freedom.
Choose destination in Cantabria