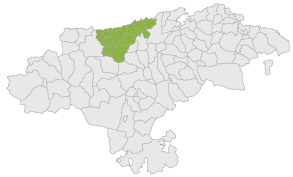 Extraordinary beaches
From Miengo, west of Santander, to Comillas, stretches the central coast of Cantabria. Its catalogue of beaches is superb, not only because they are very numerous, but also due to their exceptional quality. Some of them, like Usgo, have enticing surroundings. Others, like Cóbreces and Mogro, are quiet and easily accessible. The beaches of Comillas and Suances are closer to urbanized areas and more frequented during the summer. All these are beaches of fine and golden sand.
Great richness of monuments and history
Not only the urban areas on the coast, but some of those in the interior too, are real exponents of the perfect symbiosis between nature and man's creations, and many of them hold great historical and monumental richness.
Just a few kilometres further to the interior, we take delight in Santillana del Mar, one of the best preserved and well cared-for towns (12th to 18th century) that can be seen in our days. Just a glance at it promptly takes us back to many centuries ago, when the marquisate of Santillana hegemonically governed, and around it gentry was introduced, bearing rich coats of arms easily visible on the frontages of numerous mansions. Its medieval streets inevitably lead us to the most important artistic focal point in Cantabria: the Romanesque collegiate church of Santa Juliana and its magnificent cloister.
Not far from Santillana, Altamira houses, in the caves of the same name, the most significant rock paintings of Quaternary art. Created by people of the Palaeolithic, their main motifs are scenes of bisons and deer.
Meanwhile, Comillas, even though it has a fishing port, has an eminently aristocratic character, linked to the summer holidays of the kings of Spain at the estates of the Marquis of Comillas, at the end of the 19th century. The constructions related to the marquisate are remarkable—the palace, the "Capricho de Gaudí"—and the town centre, of the 17th and 18th centuries.
Choose destination in Cantabria