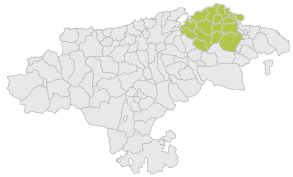 Wild, semi-urban and urban beaches
This district's coast extends from Somo, opposite the bay of Santander, to Santoña. It is divided into two sections: the first goes to the cape of Ajo (the northern-most point of the coast) and along its coastline there are mainly cliffs and just a few sandy areas; the second goes from the cape of Quejo to the estuary of Treto, and it has lovely long beaches. There are basically three types of these: wild beaches, like Langre and Antuerta (Ajo), that are highly attractive for being distant from populated areas and not easily accessible; semi-urban beaches, like Somo, Loredo, Ajo, Isla, Noja and Berria (Santoña), of great beauty and very frequented in the summertime; and urban beaches like San Martín (Santoña).
Fishing tradition
Santoña has an important fishing fleet and it concentrates in its factories, together with Laredo and Colindres, the salting fish craft and the industry of canned bonito and anchovies, two well renowned products of the region. These two products, along with the very fine clams of Pedreña, as well as the excellent lobsters of Isla are savoured in taverns and restaurants that are close to the ports.
Natural sanctuaries
The Nature Reserve of the Marshes of Santoña, at the mouth of the river Asón, is a natural sanctuary. Many birdwatchers congregate here to observe waterfowl that are gathered in high numbers.
To the north of the reserve is the crag of El Buciero, a huge rock formation covered by holm oaks, on whose cliffs El Caballo and El Pescador lighthouses are perched. The forts of San Martín and Carlos, as well as the fort of Napoleón or of the Mazo, on the flanks of this crag, transformed the town into a military strategic point.
The Ecopark of Trasmiera is another site you cannot miss when you visit this district. This open-air museum is a unique site in Cantabria where the visitor, in an eco-friendly manner, can come near the history, the landscape, the culture and the cuisine of this land of tides.
Civil and religious architecture
There are some aristocratic houses, like those of Rubalcaba and the Palace of Elsedo in Pámanes (which hosts a magnificent collection of paintings from Cantabrian artists like Riancho or Cossío), that provide a good example of mountain-style civil architecture.
As for outstanding religious architecture, good examples are the church of Santa María del Puerto (14th century) in Santoña and the church of Santa María in Bareyo, a small showpiece of the mountain Romanesque style.
Choose destination in Cantabria